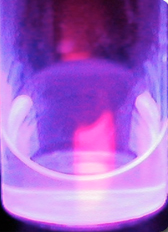 The ability to disperse POSS® at the molecular level is the key to realizing physical property enhancements.
If you are uncertain as to which properties can be enhanced or which POSS is most likely to be compatible with your system, please send us an e-mail or call to arrange for additional information.
POSS Optical Clear Coatings
POSS additives provide increased use temperatures, excellent water, and solvent resistance and enhanced thermomechanical performance.
MA0735 Optical Hard Coating
See Application    |    Product Page
MA0736 Optical Hard Coating
See Application    |    Product Page
POSS Sensors
In one line of products, hydrogen-bond acidic surface acoustic wave (SAW) sensor groups have been placed on POSS® cages. It has been shown that POSS® SAW sensors maintain better performance over time than conventional linear polymer SAW sensors. In order to collect the most chemical information, an array of SAW sensors must cover the full range of solubility, dipole-dipole, and hydrogen-bonding interactions. The detection of hydrogen-bond basic entities such as nerve agents and explosives using commercially available hydrogen-bond acidic SAW materials is now possible through use of POSS® SAW cages. To view the selection of POSS® SAW molecules please click the link below.
In another line of products, two-photon fluorophoric sensor groups have been placed on POSS cages and used in remote detection. These fluorophores change their wavelength of emission in response to their chemical environment, and a set or array of these POSS compounds can generate a unique fingerprint for a given analyte in solution, on surfaces or in cloud form. The array can be remotely interrogated by an ultrafast infrared laser and can send information back to a remote fluorimeter.
For a surface acoustic wave POSS sensor reference, click here.
For a fluorescent POSS sensor literature reference, click here.
POSS Light Emitting Polymers
In this line of products, POSS® cages have been placed on ends of semiconducting polymers. Compared with the corresponding parent polymers the POSS® anchored systems have improved thermal stability, identical absorption, and photoluminescent properties in solution and as thin films. Devices made from them exhibit higher brightness and higher external quantum efficiency. For a literature reference click here.
To view the selection of POSS® Light Emitting Polymers, please follow the links below:
ADS200RE
ADS204RE
Other Data on POSS and Electronics
EP0408 POSS Affords Finer Features in Electronics
See Application    |    Product Page
EP4F09 Nanosilica Dispersion
See Application    |    Product Page
MA4L35.01 Nanosilica Dispersion
See Application    |    Product Page