Description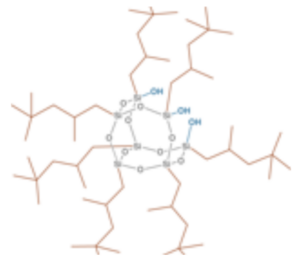 SO1455 is a hybrid molecule with an inorganic silsequioxane at the core and organic isooctyl groups attached at the corners of the cage and three active silanol functionalities.  It has shown effectiveness toward skin adhesion.
BENEFITS
Rheological diluent lubricious hydrophobe. Nonmigrating. Skin adhesion, hemostatic and antimicrobial and outstanding gloss enhancement
Key Properties
Appearance: Clear, pale yellow viscous liquid
Resin Solubility: aliphatic and aromatic monomers, oligomers, PP, PE, PA, cellulosics, silicones
REGULATORY STATUS
INCI, REACH pending, CAS 444619-08-3
Not a primary dermal irritant.
HANDLING PRECAUTIONS
Product safety information required for safe use is not included in this document. Before handling, read product and material safety data sheets and container labels for safe use, physical health and hazard information. For material safety data information, contact Hybrid Plastics.